Oh look! Another book tag. I'm on a roll. I wasn't actually tagged to do this (but pssht, who needs to be tagged to do anything?) but if I could date a website, it'd be Goodreads, so OF COURSE I had to do the tag. I saw this done by Naomi @ Professional Fangrl  so be sure to check out her post! Goodreads is the love of my life (and probably your's too, don't deny it); it's just the most perfect website for OCD booklovers so that we can organise all the books into little categories of satisfaction. So! Allons-y!
---
What was the last book you marked as 'read'?
Empire of Storms
by Sarah J. Maas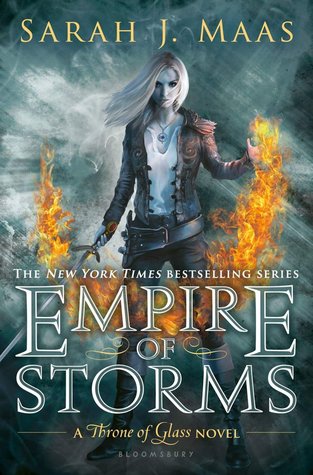 Yah-huh. I am every bit as destroyed as one can expect to be these days after reading a Maas book. Seriously, though. LOOK AT THE GAPING WOUND IN MY HEART.
---
What are you currently reading?
Strings
by David Estes
I'm currently reading Strings by David Estes! It's a gender swapped retelling of Pinocchio and I seriously don't know why you're still reading this and haven't run to the bookstore. IT IS AS AMAZING AS IT SOUNDS. This is also this month's book for The Dragon's Hoard read-along so make sure you join in (#tdhreadalong) if you have a copy!
---
What was the last book you marked as TBR?
Aerie
by Maria Dahvana Headley
I'm actually hyperventilating a little over this one. I really enjoyed the first book, Magonia, and the love interest was sizzling. I can't wait to dive back into this weird and wacky world because it is GLORIOUS (plus that cover, amiright?).
---
What book do you plan to read next?
Blood for Blood
by Ryan Graudin
*more hyperventilating* I've been trying to get around to this book for months now (even though it just came out/is coming out because I got my copy early. Yeah I don't know either) BECAUSE AKLDJIARGH I LOVE THIS SERIES. You should've seen the squealing that went on after I read the novella. GAH. I have no words. It's going to be a BLAST.
---
Do you use the star rating system?
Why, yes I do. For a long time I tried really hard to sort of stick religiously to it – but then I threw in some half stars. Goodreads is my primary place where I take care of all things bookish (so if you're not friends with me there then you're only getting half the story here) so I shall worship that star system forever and always.
---
Are you doing a 2016 Reading Challenge?
YES AND I WON. I DID IT. Empire of Storms was my 71st book for the year (and that's the most I've ever read in a year, EVER). So I'm incredibly pleased/proud/boastful about that. My goal was 70 so go me! Who wants to bet I can hit 100 by the end of the year? (I don't, I think I'm telling lies now).
---
Do you have a wishlist?
*scoffs*. Oh, honey. Let me introduce you to Wishlist Wednesday. Seriously. My wishlist – which I keep on my Book Depository account – is over 45 pages long. It's HUGE. I update this rigorously because it's how I keep track of the books that I'm not only interested in but want to own. My wishlist is my life. I could not live without it.
---
What book do you plan to buy next?
Timekeeper
by Tara Sim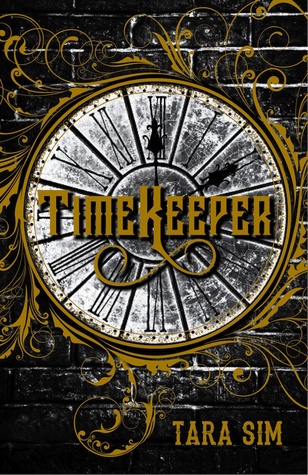 Can you feel that? You're getting a look. I plan to buy ALL the books. Truth be told I'm not really *planning* on buying anything because of going to Florida – I already have more books than I can finish between then and now. Although if I had to pick it would be this one, Timekeeper, because STEAMPUNK ALERT.
---
Do you have any favorite quotes? Share a few.
Don't cry because it's over, smile because it happened.
Dr. Seuss
History does not always repeat itself. Sometimes it just yells, "Can't you remember anything I told you?" and lets fly with a club.
John W. Campbell Jr.
All you need is love. But a little chocolate now and then doesn't hurt.
Charles M. Schulz
Either write something worth reading or do something worth writing.
Benjamin Franklin
Nobody gets everything in this life. You decide your priorities and you make your choices. I'd decided long ago that any cake I had would be eaten.
Donald E. Westlake
It is better to fail in originality than to succeed in imitation.
Herman Melville
You know, one of the tragedies of real life is that there is no background music.
Annie Proulx
No book can be appreciated until it has been slept with and dreamed over.
Eugene Field
Be clearly aware of the stars and infinity on high. Then life seems almost enchanted after all.
Vincent Van Gogh
---
Who are your favourite authors?
I have two authors who are my very most favourite people who write words en masse, and they are:
J. K. Rowling
Colleen Houck
---
Have you joined any groups?
Yes! Many. At the moment I'm co-moderating one for The Dragon's Hoard box read along so you can see that here. Otherwise I dip in and out of other groups, too.
---
 My tags!
Jocelyn @ 52 Letters in the Alphabet
---
~~ Kirstie ~~