4.5/5 STARS
Genre: Young Adult, Fantasy (dragons)
Author: Rachel Hartman
Published: July 2012
Publisher: Corgi Children's
Pages: 359 {paperback}
---
Initial Thoughts Upon Finishing
This book was AWESOME. Although a little slow to get going, the promise of boisterously fun dragon fights and a wicked plot had me hooked (and it delivered). This is 100000000% a must-read for dragon lovers because OMG it's perfect. Excuse me whilst I make a t-shirt that says "Kiggs Forever (philosophical ramblings and all)".
---
What Happens
Seraphina is an epic story of epicness that you all need to read because I'm telling you to. It has DRAGONS in it. I don't understand why everyone isn't writing books like this because clearly dragons make everything better, especially when it's wrapped up in a nice little GASP-WORTHY STORY like this one.
The book follows the character Seraphina who struggles to fit in, in this fantasy medieval-esque world because she's half dragon. Which is a very big no-no. The book is such a wonderful imagining of what if dragons and humans lived together? *FLASHBACK TO 1960s AMERICA* (just sayin'). There's enormous prejudice, people are willing to kill someone of the other species for the smallest of things, people are terrified of dragons and don't like the little treaty that's going on and forcing them together. So if you happened to let it slip that you had scales on you body because yer dad's a muggle and yer mum's a witch, welp. Goodbye you, *kicks person off cliff*.

As horrible as this is, I think it's a pretty accurate imagining. Whilst I like to think that I could hold hands with a dragon in human form and skip through fields of flowers, I think there'd probably be more pitchforks and maidens screaming. Ah yes, I should probably mention that the dragons are in human form here – so they look the same. But Kirstie! How do people know who's who?! Oh I'm so glad you asked. The dragons wear bells. Which I think is sad. They're forced to wear a bell so that everyone knows what they are. It's like the star of David all over again. *shakes head*. The dragons themselves are beautifully awkward creatures when faced with humans though, their inability to understand etiquette is fantastic. Sort of like Alan Rickman in Sense & Sensibility (no, I'm not sure why that came to mind either – but it's a good comparison, no? Don't tell me your crush on him didn't start with that movie).

The whole plot of the story is that Seraphina, who basically runs the choir, has to cope with being effectively half dragon (she can't shift or anything) at a time when there are things going on that she'd much rather not be a part of but OH WELL. That's the problem with being the main character in a novel, you're probably going to have to solve all the issues with a wooden spoon because why not.

There's so much to love – from the rich characters and beautiful settings, to the gorgeous men and frivolous balls (they really were spectacular) – and I particularly enjoyed Seraphina's little mind garden where she kept all of her problems in check (you'll understand when you read it). In short, this is my cup of tea and then some.
---
Why I Loved this More than Chocolate (nearly)
The reason this was so fabulous for me was because of this 100% believable situation. I concur that there would be strife within the populace with the whole dragons being amongst humans business. I loved that the dragons had to walk down the streets on a specific celebratory day of the year in their true form with the intention of exposing humans to their form – because of course that's not going to reduce fear, that's going to terrify everyone. As much as I love dragons, I think I would positively knock at the knees if I had to watch them parade past (and then maybe consider jumping on one of their backs).

I loved the building of the dragons' characters, too. We only get to explore a handful of actual dragons in this book – Seraphina's uncle being one. He's such a complex character with his detailed history and complicated role in the human world. According to what Seraphina understands, the dragons don't feel emotions in the same way as humans do. In fact, emotions are almost a total mystery to them – BUT not impossible. This makes the relationship between her and her uncle super interesting because he cannot, under any circumstances, show emotions towards her or he'll be pegged as sick (or something like that) and taken away. But you'll find yourself questioning the truth of his lack of emotive response in situations throughout the book. He's totally a real softy at heart.
The characters and perfection of this setting are definitely what yoinked the rating up for me. I love medieval settings and I just thoroughly enjoyed all the characters we met along the way. No-one is simple, everyone has a story. In fact, a good portion of the character have some kind of disability or mental insecurity that poses challenges for them. The main selection of these characters are through Seraphina's mind palace thing and in the prince's (Kiggs) conflicting mindset over being a bastard (in the literal sense). Actually, did we want to just pause to faint here for a moment over Kiggs? Yes, yes we do. Welcome to my fictional-hotties club, Kiggs, VIP this way.
Obviously, for Seraphina, it's her not being fully human but because she's in charge of the choir/orchestra thing she's at the heart of the court. She struggles with being around people, such as her uncle, who are unable to express much to her – I mean, that would be grating after a while, smile dammit!

I'm super intrigued to see where the next book goes because we're left in such an interesting situation from this one. I'd love to sit down and give this a reread because there's a lot to absorb from the story with all the political business going on – can someone please make a movie of this or a TV show because omg that would be fantastic. AND LET'S NOT MENTION THE COVERS – *picks up jaw*. But hats off to Seraphina being a sassy sassbag when required, she was magnificent.
---
Seraphina & Kiggs
I don't want to spoil anything for anyone so I'm going to be brief here. I appreciated and adored the friendship that these too strike up. I can't wait to see where things go in the next book and I love Kiggs to the moon and back. He's adorable, if conflicted, but I love that he's not really arrogant and all swanky – I like that he puts on a brave face but is troubled by people picking at his parentage. What both of these two can offer to the other is fabulous so can we please all have a group hug? Yes? And then I'll leave you to it whilst suggestively waggling my eyebrows? Excellent plan, Kirstie, excellent plan.
---
DRAGOOONNS
No, I don't actually have anything else to say here, I just needed to express one final time that I very much so appreciate dragons being the story of this book.
---
Summary
I adored this book (if you couldn't tell) and I'm very, very excited for the next one. You're probably wondering why I haven't given this a 5/5 but a 4.5/5 – it's simply because I'm patiently expecting that I will be further blown away in the next book. There's certainly more to give and come from this story so I'm going to be restrained and hold back that half a star for now. But the bottom line is that you REALLY need to read this book if you haven't yet! *flies away on dragon*.
---
You might also like . . .
If you need more dragons in your life, Talon is for you.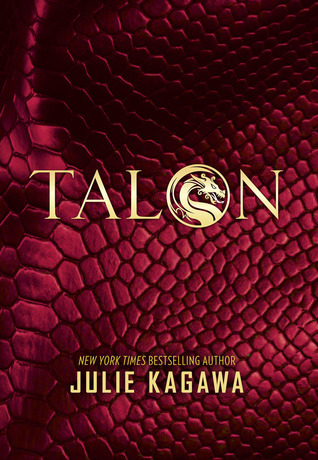 If you need more adorable men in your life, A Court of Mist & Fury is for you (so hurry up and read A Court of Thorns and Roses first!)
If you like medieval fantasy but with fewer dragons and more magic, Graceling is for you.
---
Have you read this?
What did you think? Let me know below!
---
~~ Kirstie ~~