5/5 STARS
Genre: Contemporary
Author: Rainbow Rowell
Published: January 2014
Publisher: Pan Macmillan
Pages: 461 {paperback}
**To see any spoilers, click on the link provided where you'll be redirected to my review on Goodreads where the spoiler will be 'hidden' at the same point in the review**
---
Initial Thoughts on Finishing
Oh my goodness this was ten times better than I expected. I knew it had high praise, but ARGH. This book is perfect, everything is perfect. And I can't believe it had the audacity to end. The amount of times I burst out laughing on the train was ridiculous (seriously). I kept putting off finishing it because I'm not sure I can deal with a Fangirl-less world *flailing*. Thank goodness I now have EVERYTHING else Rowell's ever written to read – oh, and of course Carry On. I can't wait. I can't.
Also. I NEED FOR LEVI. That ending *angry stomping* I need moooooore.
---
Fangirl by Rainbow Rowell
I cannot deal with how perfect this book was. I loved it cover to cover and I don't remember the last time I was so anxious for a book to end. I need more Fangirl – a volume 2 or something. This will not do. How am I supposed to pick up another book now if Cath and Levi aren't in it? ROWELL YOU RUIN ME.
This book just has everything and is wonderfully accurate of (I imagine) so many booklovers. Cath being the introvert book-addicted, fanfiction-loving college student who doesn't thinking about boys until until the matter is right under her nose. I could relate to Cath on about 10,000 levels and am so upset that it's finished. How can the book just finish? How is that alright. *prays for volume 2*.
---
What Happens
Fangirl is the story of Cather (or Cath for short). She's a twin and has just moved to college. This is the first time in her life that she's been separated from her sister, Wren. It's hard, and she struggles to fit into this new life. She goes through numerous psychological struggles in her first semester and meets a handful of new and very interesting person. She's studying Fiction Writing and nailing it because Cath is the master of fan fiction. In fact, she's more than a master. She is the god of fanfiction. You'll read the snippets and then close the book and go, whew, bloody hell that was good.
In this world there's a book series called "Simon Snow". It's basically a fanfiction of Harry Potter written by Rowell into this story. And Cath writes fanfiction of Simon Snow. It's really not as confusing as it sounds, promise. It's a huge deal for her because she's such a massive hit on the internet and she's desperately working on "Carry On" because the 8th book in the Simon Snow series is yet to be released and she wants to be done with Carry On before then. I love how obsessed she is with Simon Snow, that's totally me with Harry Potter. To a 'T'. And I get just as defensive when someone doesn't think obsessing over fictional worlds is healthy. Like please, I'm fine.
This is a wonderful story of growing up, trying to fit in, friends, family, and outlandishly attractive guys waltzing into your life. And it has a wonderful cover. I really don't know what more you could ask for in a book (dragons).
---
What I Loved: Cath and Levi
Firstly, everything. Secondly, Levi. I loved Levi's character. He's so wonderful and probably completely unrealistic within the real world but who cares about the real world, such a silly place. When Cath moves to college, her roommate, Reagan, is frequently in the company of Levi. They study together, they party together, they do a lot of things together. So Cath assumes they're in a relationship. Commence facepalming now. I so enjoyed every little second that Levi was on the page. He's so happy and beautiful and he made everything better. I love how he treated Cath – in fact I love how he treats everyone. He's just so casual whenever he's in the room and it was hilarious how he would never come into the room without Cath's permission. I honestly found that hilarious and beautiful. I need Levi.
And then of course Cath is the other star of this book. I just loved how Cath deals with life. It's so relatable for me. She's just so adorable with the way that she never wants to do things like partying or going out – she would much rather spend her days inside studying or writing Carry On. She doesn't wear make-up and she always thinks of Wren as the pretty one, the funny one, and never herself, which made me sad. Clearly Cath is the most awesome fictional character of ever. Her fantastic little emergency dance party was great as well – that is totally something that everyone should do. Cath is just such a great character to get into her head. I feel like Rowell has done such an amazing and incredible job of constructing her character.
---
Social Anxiety
I thought a really great aspect about this book was the way that this book presents to you the difficulties of social anxiety. I'm not someone who's anxious like that so it was a weird and enlightening experience. I actually felt stressed at times reading it because you crawl into Cath's mind so well, it's scary. But I think it's a good way for people to understand this issue if you're like me and don't really have anyway of understanding it on your own.
---
Relationships
Firstly let's start with the sister relationship between Cath and Wren. This is really cool and I think quite realistic. Obviously, being twins that were close, they did everything together. What was even cuter was that they actually wrote the fanction together. But once they go to college this relationship sort of falls apart for them which is sad but probably true. They are quite different (and I like how the further we get into the story, the more we understand about why Cath views herself as so different) which means that they're interested in doing different things at college. Wren is into the partying and drinking and boys (although doesn't quite neglect her studies), whereas Cath is into . . . well, staying in her dorm room and trying not fall for Levi (pfffft). As things go on the tension between them builds things definitely get interesting and the half-bitterness that develops is definitely realistic. I like that this book is not presenting life in a happy go lucky way. I find a lot of contemporaries are either disastrous in the boy/girl section or about DEATH DEATH DEATH. This is nice and melodramatic is perhaps the slightly more normal areas.
Secondly, let's talk about Levi and Cath together. THIS WAS THE BEST THING EVER ahghhdfdlkjfnk. Levi is so adorable and treats Cath so nicely. I love the way they sort of tiptoe around each other for a whole bunch of the book not sure how to react to the other. I love how Cath reads things aloud to Levi and, in my mind, Levi has the best facial expressions. I'd love to see this NEVER made into a movie because I never want the mental image of Levi to fade. I love that neither of them are perfect and I enjoyed how normally and respectfully they treat each other. It's great. They're like two perfect idiots.
The other relationships in this book are awesome and diverse. The twins' relationship with their dad is interesting and super supportive so I loved that. I thought the whole situation with their off-scene mum was very sad and confusing (in a good way) and I think I 100% agree with Cath. But I'm not going to go into that anymore because that's why you're about to read the book, yes? Yes.
---
Fanfiction
So this was obviously half of what made this book so fantastic. I will absolutely, definitely be buying Carry On in the future because I need to know more and more and more and MORE about Baz and Simon *melts*. I love getting into Cath's mind with how she feels about writing the fanfiction – that was really cool. But more importantly I loved the stories. I felt like *I* was Levi listening to these stories and that Cath was reading them out to me. It was magical and captivating and I definitely just need more.
The one thing that has stuck with me because of how much I enjoyed this (and I know this is fanfiction done by an actual author, but shh) that I should maybe dive into this world of fanfiction. Maybe. I love the idea of it and I love Simon and Baz, but I think I'm nervous that fanfiction of a series or book that I love could ruin the book for me (you know, if it's as amazing as Carry On). ARGH. This whole book is just fabulous.
---
Spoiler Time!
CLICK TO SEE SPOILER[I thought it was so cute how hesitant Cath was with progressing her relationship with Levi – but on top of that I loved how respectful Levi was of this. There was none of this crazed passion, they were both very reasonably human beings, which was great. I also loved how Levi would drop everything and run to her whenever she made mention of needing help. It was adorable and I want them to get married already, dammit. I find it frustrating that we don't get even more of a solid ending with them because one can never have enough of those two.
---
Summary
A thousand yes's to this. I enjoy it and I didn't want to finish it. I actually put off finishing it for as long as I could because I didn't want to leave the story. I can see myself coming back to this book again and again because I can't see myself ever getting bored of this. Ever. Never ever. Especially not of Levi. I definitely need to read everything else by Rainbow Rowell because clearly I've been missing out on a whole universe of awesome if this is anything to go by. YOU really need to read this! I promise you'll love it.
---
 You might also like . . .
If you like painfully adorable relationships, Graceling is for you.
If you like books with sister power in them, To All the Boys I've Loved Before is for you.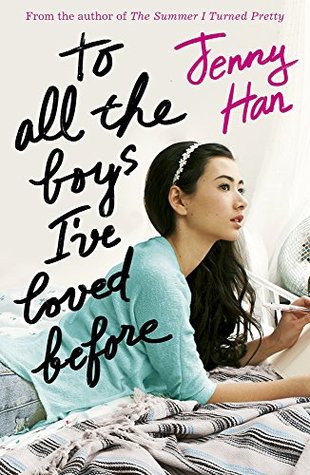 If you like books with relationships that deserve a medal, The Game of Love and Death is for you.
---
 Have you read Fangirl?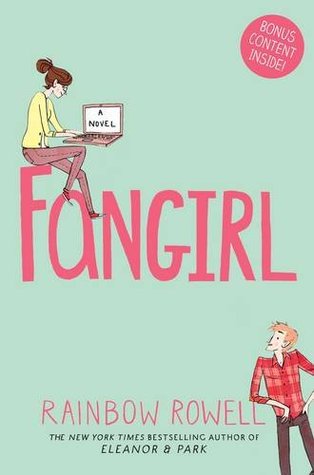 What did you think? Let me know below!
---
~~ Kirstie ~~