GUYS GUYS GUYS THIS IS NOT A DRILL. Thank you to Naz @ Read Diverse Books and Astra @ A Stranger's Guide to Novels for showing me that THIS. IS. A. THING. Because oh my goodness am I ready for this. Life doesn't get much better than a Harry Potter tag (well it does, but just agree won't you?).
I'm getting so excited for July because I've slowly been collecting the HP audiobooks (narrated by Stephen Fry O.M.G.) and I just cannot wait to relive them. Plus this tag is a wicked opportunity to go to town on the gifs. And when I say go to town on the gifs, I mean spending an unhealthy amount of time to find different gifs to the others and failing. Gosh, internet, you're letting me down. But let's not dilly dally on things because all we really want is to march right into the tag. So let's do it!
---
A Book You Found Interesting But Would Like To Rewrite
Heaven by Alexandra Adornetto
Oh boy this is a tricky one. But I think I would choose Heaven by Alexandra Adornetto. It's the final book in a trilogy and whilst being really quite good, it left an abundance of loose ends that would have been amazing if they'd been tied together.
---
The First Book In A Series That Got You Hooked
Die For Me by Amy Plum
For this one it's got to be Die For Me by Amy Plum. Ever since reading this book I have been on a self professed Plum-binge because I LOVE THIS SERIES. I just bought the third and final book for the trilogy and oh boy, oh boy am I excited to read it.
---
A Book You Wish You Could Have Right Now
Tiger's Dream by Colleen Houck
If I could zippity zap into the future to grab any book then I would choose Tiger's Dream by Colleen Houck. If you don't know, Houck is my FAVOURITE author and the Tiger's Saga is my favourite series in the whole wide world. We all thought the series would end with the fourth book but Houck has actually written a fifth and I believe it's just a matter of publication now. I've been waiting years for this, guys, years.
---
A Killer Book
The Thirteenth Tale by Diane Setterfield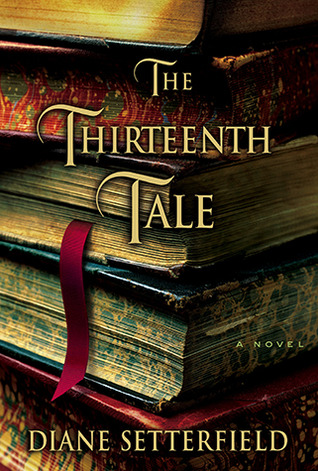 For this one I'm choosing a mystery thriller, one of the few I've read. The Thirteenth Tale by Diane Setterfield. Because holy guacamole was this book something to blow your mind with. If anyone needs the definition of a plot twist then this book can be the answer. I challenge you to not gasp, shout, or point aggressively at this book whilst reading this book.
---
A Book That You Found Really Confusing
Life, the Universe and Everything by Douglas Adams

This is the third book in the Hitchhiker's Guide to the Galaxy series and oh man, I felt like I was tripping out reading this book. The whole series is beyond hilarious and I highly recommend reading it if you can stomach the absurdity. But the third book really had me struggling. This is by far the wackiest of the lot (although I haven't read Mostly Harmless yet) and I found myself in a constant state of whaaat. It was still a perfectly brilliant book though.
---

Your Spirit Animal Book
Throne of Glass by Sarah J. Maas
&
The Looking Glass Wars by Frank Beddor
For this one I'm going to be naughty and select two. If I had a book as a spirit animal I feel like it could be either of these. I've always felt like I'd get along superbly with Celaena and that she and I somewhat similar. Not that I going around assassinating people. Promise. But I love the wackiness of The Looking Glass Wars and I think I could equally be Alyss from that – she's just a touch crazy and magnificently awesome, something which I obviously am.
On a side note, IMAGINE if we could cast a spell and the book that best represented us would come forth. IS ANYONE ELSE FREAKING OUT ABOUT HOW COOL THAT'D BE?
---

A Dark Twisted Book
The Naturals by Jennifer Lynn Barnes
*laughs nervously* This book FREAKED me out guys. I actually had to take myself to my room and do nothing but finish the book because  I knew I just wouldn't sleep if I didn't get the end. Although, to be honest, it's not all sunshine and rainbows at the end. This book is weird as and completely addictive. I, however, will probably not continue on reading the series. Also – an honourable mention to Hopeless by Colleen Hoover here, I think – if you've read the book THEN YOU KNOW WHAT'S I'M TALKING ABOUT.
I apologise to anyone who is like me and finds the scene of this gif still too much to recall. I just get all the feels when this happens. In fact, all of these gifs are killing me *crawls back into a Harry Potter-less hole*.
---

A Book That Surprised You In A Great Way, Reveals To Be More Than It Is
The Shattered Court by M. J. Scott
I actually found this one a little tricky but I have to go with The Shattered Court in the end. I had high hopes for this book going into it but for a good portion of the book I was at a bit of a loss as to where it was heading and why certain things were necessary. BUT THEN THE ENDING HAPPENED. And I'm sold 10,000% sold. I will finish this series and hopefully love every second. This was definitely one of those wonderful books that surprises you by actually being quite good in the end.
---
Jocelyn @ 52 Letters in the Alphabet
Abegail @ Books and All Spooks
So obviously this was a fantastic tag and I had oodles of fun doing it. Be sure to check out everyone else's answers and feel free to do it if I didn't tag you! One can never have too much Harry Potter in their life, *snuggles up in invisibility cloak and sips on Butter Beer*.
---
~~ Kirstie ~~