HAH what rubbish. Judging books by their covers is what makes up 83% of the fun being a bookworm. I thoroughly enjoy my trips to the bookstore or library that consist of me running up and down the aisles (I'm a very rebellious bookworm you see, watch me run in a library) picking out all the shiny looking books. This is frequently how I choose what to buy. Some of my prettiest purchases have been All Our Yesterdays and The Assassin's Apprentice by Robin Hobb. They look simply marvellous on my shelf.
But this is not a post to drool over pretty books or prod arguments with sticks to work out whether cover judging is a worth while pastime (it is). No. Today, we are going to celebrate the UGLY books! *throws confetti* That is, the ugly books that are magnificent stories.
Every now and then I go mad and decide to read the blurb of a book or listen to someone's suggestion and delve into a book with a failed Botox episode for a cover. I'm also going to look at books that have worrisome or misleading covers. So yes, let's have a look at the ugly ducklings who are, in fact, swans to be.
I'm genuinely going to put in a disclaimer here: if any of you are reading this on the train and are worried someone might be reading over your shoulder – maybe save this for home? Some of these covers might make you blush, *waggles eyebrows*.
---
Let's start this off by getting awkward, shall we?
The Laird of the Mist
by Paula Quinn
Genre: Adult Fiction, Historical Fiction
If you're anything like me, you simply would not be seen dead browsing this section of a bookstore. This is strictly an online purchase. You're all probably also wondering why I've even read this book – SEE, JUDGING HAS BEGUN. This has a bog standard trashy novel look that hints at erotica, truth be told. This is, in fact, an adult fiction Scottish Highlander story. This book needs a cover that begs you to read it, because prepare your blush ladies, it's good. Whilst there are some descriptive scenes, this is certainly no where near as sexual as that cover makes it out to be. I can't remember why this was on a wishlist but someone actually gifted this to me (I know) and I read it like a naughty school child. It's fun and great. I recommend trying this if you want to dip your toe into the shallows of the adult pool.
// GOODREADS //
Losing It
by Cora Cormack
Genre: New Adult, Romance
Are you feeling awkward yet? Do you feel like you're learning a new side to me? WELL, STOP JUDGING THEN. This book. THIS. BOOK. If you guys have not read this then I promise you, you are missing out. If you like Colleen Hoover, you're going to love Cormack. This book is definitely not one you could read in public (I advise getting the e-book) because you can just imagine a security guard coming along and asking you to take your pornography elsewhere. Just look at that cover, it's not hard to imagine what's going on there. BUT – this book, although with plenty a sexual tension, is hilarious. The main character is a complete buffoon and hopeless at dating in a non-awkward way. You will relate, and you will appreciate. It's nowhere near as frisky as it suggests.
// GOODREADS //
Tangled
by Emma Chase
Genre: Adult Fiction, Romance
This book will absolutely definitely make you blush. Without a doubt. This is THE sauciest book I've ever read, hands down. But you wouldn't be caught dead holding up a book with this cover, would you? Sometimes I wonder what authors are thinking. They should make this books with slightly more inconspicuous covers and then people wouldn't feel so embarrassing reading them in public. BUT PLEASE GO AND READ THIS. YOU'RE WELCOME.
// GOODREADS //
---
Ducklings of NOPE THAT'S UGLY.
Poppy Day
by Annie Murray
Genre: Adult Fiction, Historical Fiction, Romance
I was actually lent this book by a family friend because I was told I would like it. I had serious doubts judging by this cover. It is . . . uninspiring. This is adult fiction (and you thought I only read YA, pssht) and it's set in England during WWII. Whilst it's nothing deep and fits into the category of just sort of average fiction, I actually really enjoyed the story. The characters are very real and the plot is interesting. If you're looking for a quaint historical fiction that isn't confusing or long, maybe give this ago.
// GOODREADS //
Delirium
by Lauren Oliver
Genre: Sci-Fi, Dystopia
I've got to admit, I find the covers for this series disappointing. They're just close-ups of girls' faces and like – where's the cover art game at, bro?! This is actually only one version, there's a slightly better headshot of a different girl in another edition but, yeah. Not great. However! This is one of the most addictive books I've ever read with a fantastic storyline. I'm personally not a fan, at all, of Oliver's book endings but good god are the stories worth it.
// GOODREADS //
Ranger's Apprentice: The Ruins of Gorlan
by John Flanagan
Genre: Middle-Grade, Adventure
This is possibly one of THE worst book covers in existence. If a friend hadn't forced this upon me, I quite possibly would never have discovered this series. But OH MY GOODNESS GRACIOUS ME is it good! If you have not read the Ranger's Apprentice series then literally drop everything and go buy it. It's action, it's romance, it's friendship, it's endurance – it's everything you've ever wanted in a book at the cost of a bad cover. Although, that being said, recently the book cover artists heard my prayers and they all have shiny new covers which are nice. But we can't erase this monstrosity from our minds.
// GOODREADS //
Goodnight Mr. Tom
by Michelle Magorian
Genre: Historical Fiction
If I didn't know what this book was about, this cover would not encourage me AT ALL. However, this is a classic and a beautiful one about an evacuee during the Blitz in London (WWII). It is genuinely one of the most touching and gorgeous stories you will ever read. They've even been kind and done a nice cover change for this one too. So please, ignore the cover and read this.
// GOODREADS //
Uglies
by Scott Westerfeld
Genre: Sci-Fi, Dystopia
I can't remember this story overly well, I must admit, however, I do know that I enjoyed it. I've never been a big fan of a big face on the cover of the book and whilst this does make sense in this case, I'd love to see these covers gone. I just do not think they're enticing. If you're looking for a fabulous dystopian read, however, then look no further. But before you move on, let's appreciate how bad THIS  version is:
// GOODREADS //
The Hitchhiker's Guide to the Galaxy
by Douglas Adams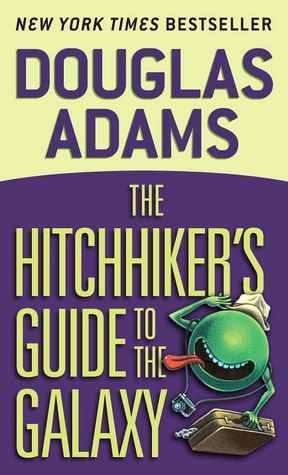 Genre: Sci-Fi
It makes me sad how ugly the covers are for this series. They are obviously trying to capture the weirdness of the story itself, but good lord, somebody help the poor thing out and actually make a more profitable area. If you like your sci-fi, than you NEED to get onto this book.
// GOODREADS //
The Killing Moon
by N. K. Jemison
Genre: Epic Fantasy
This book is a lot to swallow. It's like a hardcore fantasy novel but done extremely well. Jemisin is a really famous and successful fantasy author – so you should probably check this out if you like your fantasy. I don't, however, find this cover to be inspiring or accurately portray how epic this book is. It could literally be so much more mind-blowing.
// GOODREADS //
How to Ditch Your Fairy
by Justine Larbalestier
Genre: Middle-Grade, Fantasy
This book was fantastic when I was younger. I found the concept fantastic. If you have children or someone younger (or maybe just yourself) this is hilarious. In this world, everyone has a fairy – a guardian angel, say. It's not necessarily visible, but they all have different powers. And the main character's fairy is a "parking fairy" – which means she always gets a parking spot. Sounds great right? Not if you're, like, 12. But this cover? SHOW ME WHERE THE MAGIC IS AT, gah. Actually, it gets worse; I found that there'd been a cover redo, brace yourselves: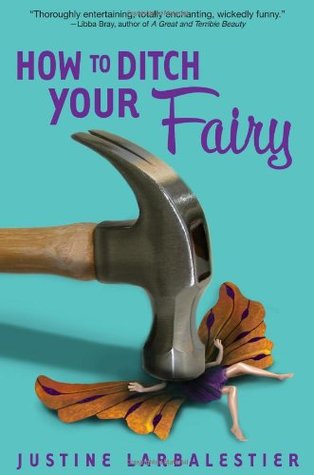 This cover, is . . . well, wow. I feel like if someone was asked to create a depiction of a childhood ruined, this would be the image they'd come up with.
// GOODREADS //
Confessions of a Hostie
by Danielle Hugh
Genre: Memoir
You're probably wondering why I'm even mentioning this book – there are obviously no dragons in this. WELL. This book is fantastic. This is an air hostess' memoirs, and it is brilliant. If you ever wondered what it's like to have that job then promise me you'll read this. The cover is very eh and promises hours of boredom, but I can assure you it's far from boring.
Can You Keep a Secret?
by Sophie Kinsella
Genre: General Fiction, Romance
Now, this cover is a crying shame, because I put off reading this for so long because of it. They did try a cover redo but it's mostly horrible so, FAIL. Actually, there are several editions and some are tolerable, but this is so bad it needs to be on this list. If I saw this in a bookstore I would not even give it a second glance, BUT PLEASE DO. If you like Bridget Jones, you will love this. Guaranteed.
// GOODREADS //
City of Bones
by Cassandra Clare
Genre: Young Adult, Fantasy, Paranormal Fantasy
Now, I feel like I might tread on some people's toes here, but this is one ugly book. The main reason that I had not picked this up until this year was because book is sickly looking. THANK THE GOD OF CHOCOLATE that someone gave these beasties a cover redo this year. But let's have a moment of silence for how horrific this cover is. *gags*
// GOODREADS //
A Great and Terrible Beauty
by Libba Bray
Genre: Young Adult, Paranormal Fantasy
To be fair, this does have an alternate edition, but HOW UGLY IS THIS? Whoever did this girl's hair and make-up must've forgotten to put their glasses on. This is 100% not how the main character looks in my mind and just, nope. Even the other editions, whilst better, don't really reflect the story. Yikes. This series is, however, absolutely fan-freaking-tastic. If you haven't read it, I implore you to.
// GOODREADS //
---
Right, there we have it. Of the books that I've read these are the books who's covers I find most insulting. I know that there are others out there but until I pluck up the courage to read them, I guess my judging of their covers will get in the way. If I stumble across more magnificent atrocities then I'll be sure to write a part two to this!
What's a cover you judged badly but the book was amazing? 
---
~~ Kirstie ~~