3.5/5 STARS
Genre: Sci-Fi, Doctor Who
Author: Mike Tucker
Published: Apri 2008
Publisher: BBC Books
Pages: 256 {hardback}
Originally posted on Goodreads
---
Initial Thoughts Upon Finishing
This was such a weird yet awesome adventure that I really enjoyed! I loved David Tennant in this one and thought it was such a spot-on representation of how his Doctor tackles all the problems (basically, in a totally ridiculous manner). I'm definitely glad that these monsters weren't on screen because oh my god they would be terrifying!!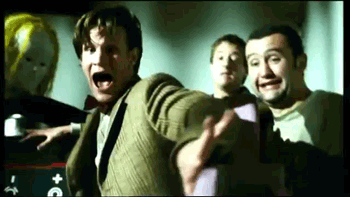 ---
Snowglobe 7
Snowglobe 7 is set in the not-too-distant future where the earth's climate has gone haywire and there are these domes, called Snowglobes, which are designed to preserve parts of the icecaps as they're melting. Snowglobe 7 is where the Doctor and Martha find themselves – of course, having set out with the intention of going to the beach – and they quickly realise that these people have a problem on their hands.

It's a really interesting set up and pretty believable seeing as everyone is telling us now that climate change is happening etc – and that definitely boosts the fear factor in this story because you'll catch yourself thinking, oh god, what if?

The problem that the Doctor and Martha find is that there are several people in quarantine who are gravely ill. On top of this, there's something in the ice and before we know it things are getting out of hand with a really terrifying threat to mankind if the Doctor can't save the day.

The fun thing is that all of this is meant to be kept under wraps because the Snowglobes are like super expensive holiday resorts for those with more money than sense – and god forbid the fun should stop! So BRING ON the lies and illegal proceedings.
---
Doctor Who-y-ness
This definitely had a good Doctor Who vibe going for it. In this story, the Doctor and Martha are separated from each other pretty quickly which divides the story quite neatly. Martha ends up tackling the medical crises and making unlikely friends as she saves the world, and the Doctor pokes the scary things with a stick.

I've said it before and I'll say it again – I really enjoy Martha as a character within these books. For whatever reason, being inside her head has made me love her character so much more. The best thing about Snowglobe 7 in comparison to the other Doctor/Martha stories was the number of snide comments Martha makes about Rose. I admit that I laughed a lot in the moments during the TV series when the Doctor goes on about Rose in front of Martha and I'm so pleased to have a couple of moments like that in this story.
"'World's tallest hotel should be that way. The Rose Tower.'
'It would be called that,' Martha muttered under her breath."
The monsters in this book were fabulous. They're a bit funny looking – something along the lines of a mutated spider thing – and they have telepathic abilities. Which is probably the only thing worse than spiders who can fly. There are plenty of those classic moments when the Doctor is trying to convince everyone not to kill the terrifying creatures and him promptly insulting the army and their trigger-happiness.
In fact, that brings me on to the point that David Tennant's Doctor is really good in this book. He was written superbly and I thoroughly enjoyed all the eyebrow quirking and mutterings to himself. Alongside the spiders that the Doctor is fighting off, there's also a bit of corrupted activity happening amongst the directors of the Snowglobes which definitely keeps us busy, as readers. That being said, the corruptness seemed to be an issue that went largely ignored by the Doctor himself, which was interesting.
---
Summary
Overall I think this was a really good Doctor Who adventure. I gave it a 3.5/5 because I think whilst it was really good is just didn't quite feel like the creme de la creme of the stories I've read so far. There's an awful lot that does happen in this book and it would've been one stressful TV episode if it had been done that way. I think the concepts for this story were brilliantly unique and definitely a good lot of fun for any Doctor Who fans.
---
 You might also like . . .
If you like Doctor Who with more space-y elements, The Resurrection Casket is for you.
If you like Doctor Who + scary monsters, Touched By An Angel is for you.
If you like Doctor Who stories on earth, The Forgotten Army is for you.
---
 Have you read this one?
What did you think? Share your thoughts below!
---
~~ Kirstie ~~