Hello and welcome!! If you hadn't noticed, it's been a while since I did a book haul on here. Honestly? I haven't bought very many books. Whilst abroad, I was aware that if I bought too many books I was going to have issues bringing them home. THUS, I present to you the most tame book haul you will ever see from me.
I'm not going to divvy this post up as I usually do simply because this is a round up of several months, it doesn't feel necessary, and I'm being lazy.
---
Torn: The Story of an Undeserving Wallaby Drowning in a Septic Tank
by Simon Williams
An eye opening, unapologetic and hilarious romp through the darkest moment of an Australian man's life.

My father told me life wasn't meant to be easy, but I don't think he anticipated it would turn out as heart breaking as it did. Before one miserable night in 2014 there were two actions I'd never contemplated doing in my life, write a book or jumping off a 20-story balcony.

However, this night I found myself so afraid and despondent that I leaned against my balcony railing and wished that I could take away all the pain I was feeling with one action. 

What could drive a man to consider taking his own life? 




I sat at my computer and started writing a suicide note. As I typed, I started to weigh up my life. With it resting perilously on the edge, I had the strength to be open, honest and unrepentant. 

Only when we start to die, do we stop apologizing for who we are, what we have done and what we go through.
You might think that this one sounds very . . . strange. I was contacted by Simon via the most hilarious e-mail I have ever received, asking if I would review his book. After much deliberation I decided that regardless of what the book was actually about I had to read something with a title as ridiculously non-sensical as this one. Duh.
---
A Court of Wings and Ruin
by Sarah J. Maas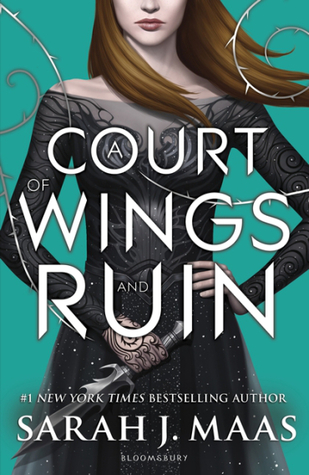 DID YOU REALLY THINK THIS WOULDN'T BE ON MY LIST? No, of course you didn't.
---
Egg & Spoon
by Gregory McGuire
A fantasy set in Tsarist Russia.

Elena Rudina lives in the impoverished Russian countryside. Her father has been dead for years. One of her brothers has been conscripted into the Tsar's army, the other taken as a servant in the house of the local landowner. Her mother is dying, slowly, in their tiny cabin. And there is no food. But then a train arrives in the village, a train carrying untold wealth, a cornucopia of food, and a noble family destined to visit the Tsar in Saint Petersburg — a family that includes Ekaterina, a girl of Elena's age. When the two girls' lives collide, an adventure is set in motion, an escapade that includes mistaken identity, a monk locked in a tower, a prince traveling incognito, and — in a starring role only Gregory Maguire could have conjured — Baba Yaga, witch of Russian folklore, in her ambulatory house perched on chicken legs
Why did I buy this one? WELL. Regan over at Peruse Project talked about it a while back and I fled to The Book Depository with great glee and bought it. Because what else does one do with a book set in Russia called Egg & Spoon??
---
The Nightingale
by Kristin Hannah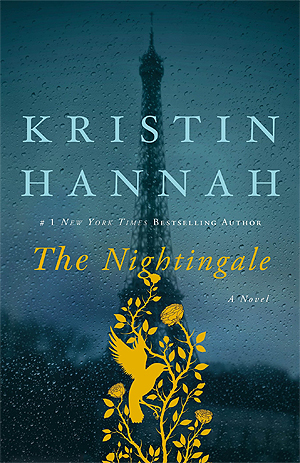 Despite their differences, sisters Vianne and Isabelle have always been close. Younger, bolder Isabelle lives in Paris while Vianne is content with life in the French countryside with her husband Antoine and their daughter. But when the Second World War strikes, Antoine is sent off to fight and Vianne finds herself isolated so Isabelle is sent by their father to help her. 

As the war progresses, the sisters' relationship and strength are tested. With life changing in unbelievably horrific ways, Vianne and Isabelle will find themselves facing frightening situations and responding in ways they never thought possible as bravery and resistance take different forms in each of their actions.
I LOVED THIS BOOK. Evidently, I have already read this one (review). After being told multiple times by Amanda @ Cover 2 Cover Mom that I NEED to read this one because it's right up my alley. Well, looks like she was right! This book was amazing and I need all of Kristin Hannah's books.
---
Harry Potter & the Chamber of Secrets (Italian edition)
by J. K. Rowling
I  was ridiculously pleased to get my hands on this edition of Harry Potter. I bought the first book in Italian about two years ago now and ever since coming back from Italy (where I bought it) I've been on the hunt for this one. I tell you, Italian is a hard language to find these in! But alas, I found this treasured copy in a small, nondescript bookstore in Boston. Who'd've thought?
---
The Adventures of Pinocchio
by Carlo Collodi
I found a super old copy of this one in a second hand bookstore in Washington, D. C. that I absolutely had to have. My copy is 82 years old, I believe, and has a cute little dedication in the front cover of it that dates it as a Christmas present in 1935. So, yep, I bought that one.
---
The Life of Elves
by Muriel Barbery
A moving and deeply felt homage to the power of nature and art by one of the world's most beloved authors.

Do two young girls have the power to change the world? Maria, raised by powerful older women, lives in a remote village in Burgundy, where she discovers her gift of clairvoyance, of healing and of communicating with nature. Hundreds of miles away in Italy, Clara discovers her musical genius and is sent from the countryside to Rome to nurture her extraordinary abilities.

Who are the mysterious elves? Will they succeed in training the girls for their higher purpose in the face of an impending war? Barbery's The Life of Elves is the story of two children whose amazing talents will bring them into contact with magical worlds and malevolent forces. If, against all odds, they can be brought together, their meeting may shape the course of history.
This one I received this one as a belated birthday present and I'm quite excited for it. I have another of Barbery's books, not that I've read it yet, but I do like the sound of her as an author. I'm hoping this one's good because, I mean, it has 'elves' in the title – and that's always a good sign, right?
---
Alrighty, so there's my little collection of all the books I've hoarded up over the last few months! I can't wait to buy more books but I'm also hoping I don't buy any more because lord knows that TBR desperately needs to go down!!
---
~~ Kirstie ~~