A book haul! Such fun! I'm sort of combining January and February into this book haul because if you were paying close attention you might have noticed that I didn't do a book haul for January. I might have forgotten . . . ahem! But the point is that one is here now – most of these are February accumulations but a couple will be thrown in from Jan so it looks a little beefed up. 
---
BOUGHT
I've managed to gather a nice little selection of books whilst being in America because god forbid travelling were to stop me buying books. I might not have any time for reading but that is completely beside the point, am I right? SO! These are the books that I've bought.
The Wish Granter
by C. J. Redwine
The world has turned upside down for Thad and Ari Glavan, the bastard twins of Súndraille's king. Their mother was murdered. The royal family died mysteriously. And now Thad sits on the throne of a kingdom whose streets are suddenly overrun with violence he can't stop.

Growing up ignored by the nobility, Ari never wanted to be a proper princess. And when Thad suddenly starts training Ari to take his place, she realizes that her brother's ascension to the throne wasn't fate. It was the work of a Wish Granter named Alistair Teague who tricked Thad into wishing away both the safety of his people and his soul in exchange for the crown.

So Ari recruits the help of Thad's enigmatic new weapons master, Sebastian Vaughn, to teach her how to fight Teague. With secret ties to Teague's criminal empire, Sebastian might just hold the key to discovering Alistair's weaknesses, saving Ari's brother—and herself.

But Teague is ruthless and more than ready to destroy anyone who dares stand in his way—and now he has his sights set on the princess. And if Ari can't outwit him, she'll lose Sebastian, her brother…and her soul.
This is the second book in the Ravenspire series, the first book of which I absolutely adored. I love Redwine's writing style and I adored her previous series (Defiance). So I'm really looking forward to reading this one because it's a Rumpelstiltskin retelling. I wasn't going to buy this in hardback but I did because oh my goodness have you seen it? It's beautiful naked and the map is colourful and to die for.
Knife
by R. J. Anderson
Once upon a time, a fairy is born. She lives in an old oak tree at the bottom of a garden with the rest of the fairy folk. Never has she known a time when life hasn't been hard, with many dangers and much adversity. But when she becomes the Hunter of the group and learns to do battle in the outside world, her adventures really take off…

Don't read this book if you're expecting fairy dust – the last thing Knife is likely to wield is a magic wand…
This one has been on my wishlist for such a long time but I've never bitten the bullet and bought it – often because it was either out of stock in Australia or too expensive. But it was just $6.00USD here so I screamed with delight, ditched it into my basket, and bought it. I mean, a creepy story about fairies? Yes please.
Shades of Milk and Honey
by Mary Robinette Kowal
Shades of Milk and Honey is exactly what we could expect from Jane Austen if she had been a fantasy writer: Pride and Prejudice meets Jonathan Strange & Mr. Norrell. It is an intimate portrait of a woman, Jane, and her quest for love in a world where the manipulation of glamour is considered an essential skill for a lady of quality.

Jane and her sister Melody vie for the attentions of eligible men, and while Jane's skill with glamour is remarkable, it is her sister who is fair of face. When Jane realizes that one of Melody's suitors is set on taking advantage of her sister for the sake of her dowry, she pushes her skills to the limit of what her body can withstand in order to set things right—and, in the process, accidentally wanders into a love story of her own.
There is much the same story for this book as the previous one. I remember someone recommending this one to me based off one of my favourite books (although I can't remember why now). So I've been eyeing it off for about a year and now I possess it! Let me howl with joy.
---
RECEIVED
Traveller Inceptio
by Rob Shackleford
If you were sent 1000 years into the past, would you survive?

Traveller – Inceptio describes how the Transporter is accidentally invented and becomes public knowledge when it sends a subject 1000 years into the past.

A Special Forces team of Travellers is then selected and trained with the intent to send them to Saxon England to explore what could be a very dangerous period of history.

From the beaches of Australia to the forests of Saxon England, Traveller – Inceptio reveals how Travellers discover they need a lot more than technology to survive the trials of early Eleventh Century life.
Rob kindly contacted me recently to ask if I would like a copy of his book for review and I'm super keen to get around to this one. It think the blurb sounds really interesting – whilst the book is terrifyingly long in e-book form (over like 1000 pages!!) I think it'll make for an interesting read. Plus the cover is pretty, so, you know.
The Romance Reader's Guide to Life
by Sharon Pywell
Neave and Lilly Terhune couldn't be more different. Lilly is a beauty who runs through men like water. Neave, having been told at an early age by their mother that she will not be able to get by on her looks, always has her head in a book. Her favorite is The Pirate Lover, a romance novel about a young woman who refuses marriage to the highest bidder and instead escapes to the high seas where she meets the love of her life.

During WWII, when the men are gone, both sisters start working. But when the servicemen return and take back their jobs, Neave and Lilly are left with few options besides marriage. But they have other ideas. They start to build a makeup business (think Avon in its early days) and soon have a hit on their hands. But just as their business is truly taking off, Lilly disappears and Neave must figure out what happened. Luckily, she has Lilly's assistance helping from above, even if she doesn't know it quite yet.

Alternating between the sisters' story and that of Neave's beloved Pirate Lover book, Sharon Pywell shows how all romantic relationships have dark undercurrents, how even the most cerebral amongst us can enjoy a swashbuckling, page-turning romance, and how sometimes the guiltiest of pleasures might contain essential kernels of truth.
I am so ready for this book it's not even funny. I love the cover and I love the title. I think this is going to be a funny read (I hope) so I can't wait to pick it up. I simply couldn't resist requesting this book when I saw it!
---
PRE-ORDERS
Roseblood
A. G. Howard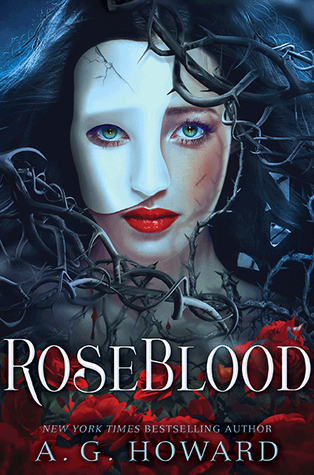 In this modern day spin on Leroux's gothic tale of unrequited love turned to madness, seventeen-year-old Rune Germain has a mysterious affliction linked to her operatic talent, and a horrifying mistake she's trying to hide. Hoping creative direction will help her, Rune's mother sends her to a French arts conservatory for her senior year, located in an opera house rumored to have ties to The Phantom of the Opera.

At RoseBlood, Rune secretly befriends the masked Thorn—an elusive violinist who not only guides her musical transformation through dreams that seem more real than reality itself, but somehow knows who she is behind her own masks. As the two discover an otherworldly connection and a soul-deep romance blossoms, Thorn's dark agenda comes to light and he's forced to make a deadly choice: lead Rune to her destruction, or face the wrath of the phantom who has haunted the opera house for a century, and is the only father he's ever known.
This book arrived on my doorstep just before leaving for America but I failed to include it in a previous haul so here we are. I took this one with me to the States as well and I've started reading it. Not sure exactly what to think of it just yet, but I'm definitely intrigued.
Between Two Thorns
Emma Newman
Beautiful and nuanced as it is dangerous, the manners of Regency and Victorian England blend into a scintillating fusion of urban fantasy and court intrigue.

Between Mundanus, the world of humans, and Exilium, the world of the Fae, lies the Nether, a mirror-world where the social structure of 19th-century England is preserved by Fae-touched families who remain loyal to their ageless masters. Born into this world is Catherine Rhoeas-Papaver, who escapes it all to live a normal life in Mundanus, free from her parents and the strictures of Fae-touched society. But now she s being dragged back to face an arranged marriage, along with all the high society trappings it entails.

Crossing paths with Cathy is Max, an Arbiter of the Split Worlds treaty with a dislocated soul who polices the boundaries between the worlds, keeping innocents safe from the Fae. After a spree of kidnappings and the murder of his fellow Arbiters, Max is forced to enlist Cathy s help in unravelling a high-profile disappearance within the Nether. Getting involved in the machinations of the Fae, however, may prove fatal to all involved.
This was the last book that I received from The Dragon's Hoard box and I'm very curious to see what it's like. It sounds really amazing and I can't wait to pick it up!
---
That's a wrap!
Have you read any of these? What did you think!
---
~~ Kirstie ~~